The Importance of Emergency AC Repair in McLean County IL
Chamber Services licensed and certified technicians want to keep your family safe and comfortable with quality AC repair in McLean County IL. Call your trusted local HVAC experts now at 309-829-6750 to get your home cooled down again.
The triple-digit heat and high humidity experienced during a typical summer in McLean County IL can become dangerous with a broken air conditioner. Children, elderly loved ones, and people with respiratory and other health conditions can experience serious medical issues in a home without air conditioning. Plus, coolant leaks or ductwork contaminated with a large accumulation of dust and mold can compromise the air quality inside your home. As a result, you and your family could experience health problems or breathing issues in severe cases.
Avoid a potentially hazardous situation in your home with our emergency AC repair in McLean County IL. Let one of our well-trained, factory-certified experts diagnose the issue and fix it fast. Contact us right away if your air conditioning is making weird noises, odd smells, or blowing out hot air.
How You Can Save Money with AC Repair in McLean County IL
If you perform regular AC repair in McLean County IL, you can experience substantial savings on your energy bills. When your system has broken parts, leaks, or improperly installed ductwork, it uses more energy to compensate for the problems. The increased energy usage winds up costing you big when you get the power bill. Plus, your system wears out faster when it works harder to circulate air through your home. These conditions will shorten the life of your air conditioner and sock you with another large bill to replace the unit. However, Chambers Services HVAC experts can make sure small problems with your AC unit do not end up costing you big every month.
What You Can Expect with Chambers Services
We understand you want qualified professionals when you need AC repair in McLean County IL. For that reason, we send out-licensed, certified professionals with all the required training to provide quality workmanship on your repairs. Our technicians will give you a courtesy call to let you know when they will arrive and provide a thorough inspection. Then, they will diagnose what you need and perform the following: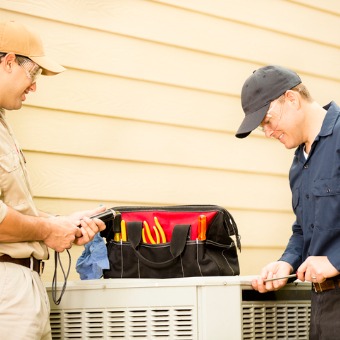 We repair all brands and provide expert heating and air repair.
You receive a two-year warranty on parts used in your repair. Plus, we offer a 1-year warranty on labor for all repairs.
Our team values your time and will always strive to make on-time service calls.
Chambers Services technicians carry most parts and tools on our trucks. Consequently, you get a high-quality repair as fast as possible.
Repairs for furnaces – gas and electric
Servicing of central AC units
Repairs for window AC units
Maintenance services for Humidifiers
Repairs for dehumidifiers
Servicing of air cleaners
Get the Local Experts for AC Repair
When you need AC repair, you want only the best team of HVAC experts for your job. Chambers Services has served Central Illinois customers for decades as the preferred choice for HVAC and appliance repairs. Contact us now to request a free quote or schedule an appointment. Also, you can find other helpful resources on our website such as answers to frequently asked questions, pricing and policy information, and brands we commonly service. If your AC unit blows out hot air, does not blow out any air, or makes funny noises or smells, call us right away at 309-829-6750.