We've Got the HVAC Services Bloomington IL Wants
Whether you own a business or a home, your HVAC system is a critical component of the building. When it stops working or becomes inefficient, you want to be able to call someone who will come quickly. That's when you should call Chambers Services. When your heating or cooling system breaks down, there's no time to waste. Choose the local company that will send out technicians promptly so you don't miss a beat. We invite you to learn about our heating and cooling sales and repair services. Just remember: we've got the HVAC services Bloomington IL wants.
We proudly sell Goodman furnaces and air conditioners and can install them quickly and efficiently. We are here when you need us, offering 24/7 emergency service. In addition to all HVAC components, we also install air cleaners, humidifiers, dehumidifiers and heat pumps. What are you waiting for? Let our team provide you with an accurate estimate to replace or repair your HVAC units free of charge. Our family-owned business, established in 1995, is at your service.
HVAC Sales and Repair: Our Services in Bloomington
No HVAC unit is too much of a challenge. Because we know heating and air repair inside and out, we have built a reputation for providing superior heating and air repair service for nearly 40 years. Our certified technicians address all issues with heat and cooling systems in Bloomington and beyond. Here are some reasons to love us:
We give you a call ahead when we're on the way to your repair.
Most parts and tools we carry on our trucks.
We are skilled in repairing all brands of HVAC units.
We give you a one-year warranty on parts used and 90 days on labor for all repairs.
Are you concerned about price? No worries. One thing you can rely on is our affordable prices. And with furnace/AC inspections starting at just $69 each, and one service call is only $89, you can't go wrong. Plus, this price includes a trip to your home and diagnosis of one appliance.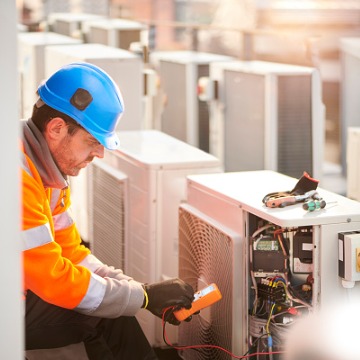 As part of our HVAC services, we can repair and install:
Furnaces (gas and electric)
Air conditioner inspections
Central air conditioners
Window air conditioners
Dehumidifiers
Geothermal
Air cleaners
Humidifiers
Furnace inspections
Personal Service You Can Count On
Personalized service: this is something we do better than anyone else. Chambers Services is not only your source for HVAC services in Bloomington IL, but we also offer:
Sales, Service, Installation
Fast 24-Hour Emergency Service
All Services Available with Warranty
Factory-Authorized by Most National Brands
While we're a small hometown company, we give you the far-reaching services and expertise of a large company. Our family atmosphere is yet another thing that makes us stand out above the rest.
Contact Chambers Services in Bloomington IL
To schedule HVAC services in Bloomington IL, contact us at 309-829-6750. We are conveniently located right here in Bloomington at 1102 W Macarthur Ave.