Top HVAC Contractors for AC Service in McLean County IL
Since 1995, Chambers Service has provided licensed, certified technicians who deliver quality AC service in McLean County IL. When it comes to your air conditioning, trust only the local experts for your maintenance needs. Request a free quote or schedule service now by calling 309-829-6750.
Our company has established itself as the top provider for HVAC sales, service, and repair as well as appliance repair for McLean County IL. Residential and commercial customers in Bloomington, Normal, and surrounding communities trust Chambers Services because of the value we offer. When you choose us for AC service in McLean County IL, you receive the following benefits:
AC maintenance and repair for all brands
Warranties for two years on parts used in repairs and one year on our labor.
We carry most parts and all the necessary tools on our trucks. Consequently, we provide fast service that gets you back to your normal routine in a short time.
Our team will do its best to make on-time service call appointments. Plus, we will provide courtesy calls to let you know when we will arrive.
When Do I Need AC Service?
HVAC product manufacturers suggest six-month intervals for heating and AC service in McLean County IL. Due to the severe temperature shifts in McLean County, we recommend spring and fall service appointments. Thus, our home comfort specialists can ensure your home remains comfortable during the summer heat and winter chills.
Yet, you should not wait to contact Chambers Service if you think your AC unit requires immediate attention. After all, we also provide heating/air conditioning repair. Plus, we also handle sales and installation of a replacement HVAC system. For that reason, you can make Chambers Services your one-stop-shop heating and cooling.
Give our local experts a call now at 309-829-6750 to get a free estimate. Whether you need service for your AC unit, furnace repair, or a new AC unit or furnace, we can help. Request a quote online now for your heating and cooling needs.
Reasons to Choose Chambers for Your AC Service in McLean County IL
Chambers Services offers quick and affordable AC service in McLean County IL. Furthermore, we provide you with the following upfront pricing and policies: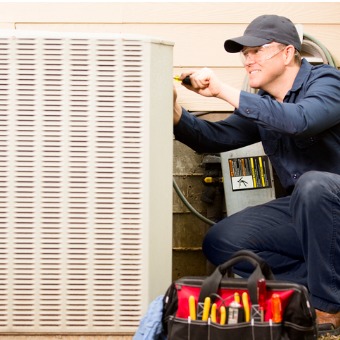 Our Furnace/AC Inspections are only $69.00 each
Affordable service appointments: We charge only$89.00 which includes a trip to your home and diagnosis of one appliance.
Inspections of multiple appliances on a service call: We offer a regular service call rate for the first appliance and a $55.00 charge for each additional appliance.
Emergency Service calls: We charge only $140.00 to guarantee same-day service. Plus, that includes the trip charge and diagnosis of one appliance or HVAC component.
Convenient Labor Rates: Our company uses the MSA guidebook to charge a flat rate for repairs. Our technician will inform you of the charge before beginning repair.
Warranty: Our team will file warranty claims on your behalf. However, our customers are responsible for providing us with accurate contract details, purchase dates, model, and serial numbers. Also, clients must pay for repair charges that are not covered by their warranty contracts.
Schedule Your AC Service Now
If your AC unit makes odd noises, strange smells, does not blow cold air, or blows hot air, you need AC service in McLean County IL. Call us right away at 309-829-6750 to restore the comfort in your home. In addition, you can request a quote online.