Professional AC Installation from Local Cooling Experts
As temperatures continue to rise with the summer heat, staying cool is your top priority. Ideally, your air conditioning system is ready to supply your household with cooling and comfort all season long. However, if your AC is old, too many parts continue to fail, or you lack a central system entirely, you now need AC installation in Bloomington IL. Thankfully, when it comes to professional installation services from trained, local experts, Chambers Services Inc. has you covered.
Is Now the Time for a New System?
If you've lived in the Midwest for any time, you understand how hot summers can become! For this reason, a central AC or HVAC system is essential for most homes and businesses. Whether for new construction or as a replacement, the time is right for AC installation in the Bloomington-Normal area.
What Age is Your System? – Have you had your current AC system since purchasing your home? It is worth checking the age of your equipment! Systems that are more than ten years old begin to break down and run into energy efficiency issues, requiring complete replacement.
Are You Continually Paying for Repairs? – While repairing your AC is most certainly less than replacement/installation, repair bills can add up. And if your HVAC system continues to break and require service, upkeep will become more costly than an investment in new equipment.
How High Are Your Energy Bills? – Has this summer seemed especially bad for energy usage but with no change to how you cool your home? This can be a sign of a failing AC or HVAC! New and well-maintained systems help keep energy costs low. Often, utility bills (and other upkeep fees) associated with old or malfunctioning systems will cost you more than outright replacement.
Are You Comfortable? – The ultimate sign of whether or not you need new AC equipment is if you feel comfortable in your home or business. If your air conditioning is inconsistent, keeping parts of your property cool but others not, any number of issues can be the cause. A cooling specialist can help determine whether your existing AC can be restored or if it's time to move on.
Installers You Can Trust
Chambers Services Inc. is a family-owned business that works tirelessly to service residents' heating and cooling needs throughout Central Illinois. For over 20 years, we've supplied fast, high-quality installation of the latest air conditioning and HVAC systems, ensuring our clients enjoy a comfortable living space. As such, we've helped install all types of cooling units from popular manufacturers like Bosch, Frigidaire, GE, Goodman, etc. Examples of equipment we're intimately familiar with include:
Central Air Conditioners
Window Air Conditioners
HVAC Systems
High-Efficiency Forced Air Systems
Programmable Smart Thermostats
Humidifiers & Dehumidifiers
Air Purifiers
And More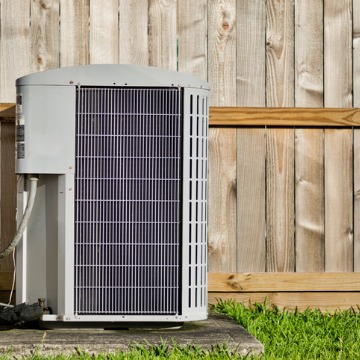 What You Can Expect from Chambers!
In addition to AC installation/replacement, Chambers Services Inc. can assist with upkeep, maintenance, inspections and repairs of your existing air conditioning systems. Not only that, but we supply these same services for all furnace and heating products! As such, from Chambers Services Inc., you can expect:
Qualified service professionals trained to manage all brands of heating and cooling systems
5-Year Parts Warranty for all repair and installation work
1-Year Service Warranty and 30-day coverage for service calls
Professionals who value your time and always stay in direct communication
Most parts and tools are carried on our trucks, allowing us to resolve minor issues in a flash
Call Today
When you need reliable, high-quality AC installation for Bloomington IL or the surrounding communities, count on the local cooling experts at Chambers Services Inc. Learn more about our company and services or request a quote by calling 309-829-6750. We are located at 1102 W Macarthur Ave, Bloomington, IL 61701. Chambers Services Inc. serves clients throughout Bloomington, Normal, Peoria, Champaign, Decatur and all of Central Illinois.