When Your Air Conditioning Breaks, Count on Expert AC Repair
While the Midwest doesn't always feature blistering heat, the temperature still rises significantly between spring and summer. As such, you want cooling systems to ensure your facility or household stays comfortable all season long. However, doing so becomes challenging if your system continues to break down, malfunction and fail. When this occurs, there's one HVAC company Bloomington-Normal residents turn to for fast and efficient AC repair: Chambers Services Inc. Call today!
What Are Some Signs Your System Needs Repair?
Other than outright not working, there are some signs of a broken or "breaking" AC system that the average person won't always catch. If you suspect your air conditioning is in decline and soon to break, here are some telltale signs to look out for:
Warm Air Output – You should only feel warm air from your AC unit if it's just turning on or your home's air is cool enough. Otherwise, if you only feel warm air from your vents, something is wrong with your system. Issues like a broken compressor or restricted airflow can cause a lack of cold air.
Restricted Airflow – Speaking of airflow, your air conditioning units should always maintain a consistent airflow throughout your home or facility. If you find vents not pushing out air, the problem might be as simple as a clogged filter or more problematic like a broken fan or motor. Either way, a cooling technician can make quick work of such repairs.
Repeated Start-Ups – As your air conditioning cools your home, you'll notice it turn on or off at various points in the day, having reached your optimal temperature. This is perfectly normal, as your standard AC system will undergo routine cooling cycles. However, if you notice your system continually starting and stopping, there might be an issue with your thermostat or equipment sensors.
Leaks – A little condensation on your AC equipment is perfectly fine. However, what isn't normal is when water from your air conditioning pools around equipment. Condensation would not be that extreme, meaning a leak likely exists in your system. If left unresolved, your system will malfunction, and pooling water can cause potential water and structural damage to your property.
And More – Ultimately, if your AC is causing you discomfort, you know it needs repair. Discomfort can come in the form of a non-functioning system or be more subtle, like unpleasant odors and loud noises emanating from your ventilation and equipment. No matter the issues with your air conditioning, Chambers Services Inc. will uncover the cause and provide a solution.
The Best Local Repair Service
When your need for AC repair in Bloomington IL and the surrounding communities is urgent, Chambers Services Inc. has your back! For over 20 years, we've served Central Illinois with exceptional AC services. Our expert technicians are trained and certified to repair most popular manufacturer brands, including Amana, GE, Goodman, Jenn-Air, etc. We've provided repairs for:
Central Air Conditioners
Window Air Conditioners
HVAC Systems
High-Efficiency Forced Air Systems
Programmable Smart Thermostats
Humidifiers & Dehumidifiers
Air Purifiers
And More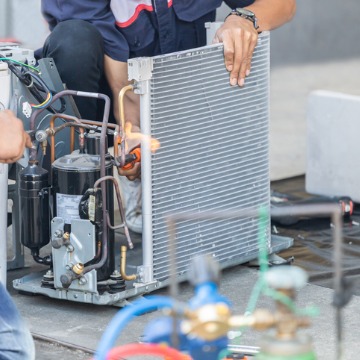 What You Can Expect from Chambers!
In addition to AC repair services, Chambers Services Inc. offers expert HVAC system installation, inspection, and maintenance. Not to mention, our service doesn't stop with cooling! We also provide exceptional heating service, helping install, repair and maintain residential and commercial furnace systems. Some of what you can expect from our company include:
Qualified service professionals trained to manage all brands of heating and cooling systems
5-Year Parts Warranty for all repair and installation work
1-Year Service Warranty and 30-day coverage for service calls
Professionals who value your time and always stay in direct communication
Most parts and tools are carried on our trucks, allowing us to resolve minor issues in a flash
Contact Us
Don't settle for less than the best AC repair for Bloomington IL residents. Ensure your HVAC systems are like new with detailed repair service offered by Chambers Services Inc. To learn more about our company and services or request a quote, call 309-829-6750. We are located at 1102 W Macarthur Ave, Bloomington, IL 61701. Chambers Services Inc. serves clients throughout Bloomington, Normal, Peoria, Champaign, Decatur and all of Central Illinois.