Call Chambers Services for Refrigerator Repair Service in Peoria IL
Few appliances are as essential as a refrigerator. It quietly does its job every day, yet you couldn't imagine life without it. Then, one day, you open the door. The light doesn't come on. You don't feel a cool chill wafting over you as you lean over to look in. And suddenly you're panicked all your food will go bad. Instead of worrying, call the professionals at Chambers Services. We'll get your unit back up and running in no time. Make us your first call when you need refrigerator repair service in Peoria IL.
Why You Need Chambers Services
Chambers Services has been satisfying customers in our area since 1995. In fact, our namesake owner has been in the industry even longer than that. Chambers Services' years in the industry have taught us you don't want any more surprises after the shock of an appliance failing to function. That's why we offer up front pricing. Our goal is to ensure you'll always know just what it will take to get your fridge back up and running. We value your time, so we arrive with tools and most parts in the truck. That way, you aren't losing any time or getting more upset as your delicious treats defrost in your freezer.
We are prepared to arrive, process in place, thanks to our factory and manufacturer training and certification. We're always ready to resolve your unit's malfunction quickly and efficiently. We also have extensive experience with all manner of appliances. That means our service people are aware of all the subtleties of difference with your appliances. We can sort out exactly what your specific appliance needs to get it back in working shape. We are prepared to be your go-to resource for refrigerator repair service in Peoria, IL.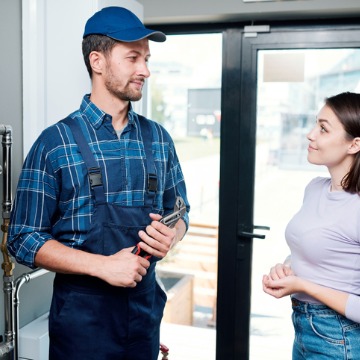 Chambers Services Offers Full-Service Repairs
You can trust Chambers Services for more than refrigerator repair alone. You can call us for any appliance that may need repair. We serve all major appliances and brands. If you have an oven, stove, washer or dryer, dishwasher, microwave, freezer, or garbage disposal that breaks, we are trained to fix it. We also work on major brands, like KitchenAid, Bosch, Whirlpool, Viking, Frigidaire, GE, and Amana. You can also trust us with your HVAC systems. We can repair your system, or if you're in need of a new system, we sell and install Goodman furnaces and air conditioners.
Request A Quote for Refrigerator Repair Service in Peoria IL
Stop worrying about where to find a refrigerator repair service in Peoria, IL. Contact Chambers Services and you'll go from boiling over a breakdown to relaxing after a repair. To learn more about our full range of services, or to schedule a service or request a quote, give us a call at 309-829-6750.