Stay Warm this Winter with Exceptional Heating Service in Normal IL
You are bound and determined to keep your family warm this winter. However, you might be in for a rude awakening if you've yet to run your furnace in preparation for cold weather. After your system has been sitting for more than a season, cleaning or repairs might be required to ensure it's functioning as it should. Thankfully, it's easy to find expert heating service for Normal IL. With furnace repair, installation and maintenance provided by Chambers Services Inc., you can look forward to a warm and comfortable household!
A Full Range of Services
Chambers Services can be your one-stop shop for all heating-related services. Our team of expert contractors and technicians has managed repair and maintenance for all variety of furnaces and HVAC systems. Moreover, with a focus on quality, speed and customer experience, we go above and beyond for our clients. Chambers Services Inc. offers:
Furnace Installation

Has your existing furnace completely failed? Do you wish to update your old furnace to something more energy-efficient? Do you need help selecting the right heating system for new construction? Chambers Services can help! We provide furnace installation for clients in need, having installed furnaces and HVAC systems from the most popular brands and manufacturers. Rest assured, furnace installation from Chambers Services is always fast and flawless!

Furnace Repair

Before you decide that the complete replacement of your heating is necessary, allow our technicians to take a look. Often, we can pinpoint the exact component causing issues with your heating, providing repair or replacement for said part. This is easier and less time-consuming than furnace installation, and it's the most affordable way to get your system working. Additionally, we offer emergency repairs for when your heating goes out unexpectedly.

Furnace Inspections & Maintenance

Rather than waiting for your furnace and heating systems to break down, you can prevent issues from occurring in the first place! With seasonal inspections and maintenance, keeping your furnace running at maximum efficiency is easy. Chambers Services can provide cleaning and preventative maintenance for your equipment, extending its longevity and helping homeowners avoid otherwise expensive repairs and replacements.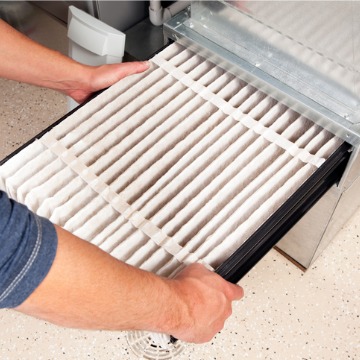 Count On Chambers
Chambers Services Inc. isn't known as the area's best heating and cooling contractors for nothing! In addition to our heating service for Normal IL, we also provide cooling service and appliance repair for businesses and residents throughout Central Illinois. We strive to maintain excellence and a high standard of quality for every job, always committing to provide:
Qualified service professionals trained to manage all brands of heating and cooling systems
5-Year Parts Warranty for all repair and installation work
1-Year Service Warranty and 30-day coverage for service calls
Professionals who value your time and always stay in direct communication
Most parts and tools are carried on our trucks, allowing us to resolve minor issues in a flash
Talk with Our Team
When cold weather is on the horizon, do everything you can to guarantee warm and consistent temperatures for your home with heating service in Normal IL. Request expert furnace installation, repair and maintenance from the professionals at Chambers Services Inc. today. To learn more about our services or request a quote, call 309-829-6750. Chambers Services is located at 1102 W Macarthur Ave, Bloomington, IL 61701. We service clients throughout Bloomington, Peoria, Decatur, Champaign, and all of Central Illinois.