Reliable Heating Installation in Bloomington IL When You Need It
Seasons come and go, and as fall approaches, it's time to put away the shorts and pull out the sweaters and long pants. The closer we get to winter, you may want to consider getting your furnace in working order. Even though your heating worked all last season, it's always a smart idea to check for any issues before the cold sets in. And, if you discover your furnace needs more than a simple repair, Chambers Services can help with fast and efficient heating installation for Bloomington IL.
In twenty-five years of service to Central Illinois, Chambers Services has made a name for itself as a reliable heating contractor. From friendly service to expert advice, our team of technicians is the best in the industry. We've worked with dozens of manufacturers over the years, so there isn't much we can't repair or replace. Furthermore, if you want the same service as a large heating company but the personal touch of a family-owned business, you've come to the right place.
Why Would You Need a New Furnace?
Before we suggest furnace replacement, we will determine whether repair and maintenance are the best courses of action. However, some tell-tale signs determine whether a furnace has passed its prime.
Constant Repairs

Do you find there are issues with your heating system every season? A broken part here, a faulty connection there, and after long, you may be spending more on repairing your system than it would be to replace it outright. However, before you reach this point, our technicians will advise you on what would be best for your home and budget.

Old Age

Every furnace system grows old. So old, in fact, that it no longer can function at peak efficiency. Such a drop in efficiency can cause you discomfort and cost you more on your energy bill in the long run. So, it may be time to replace your old clunker of a furnace. Moreover, modern furnaces possess benefits that save you energy and help protect the environment.

Reduced Functionality

If there are portions of your home that stay cold, no matter how high you turn your temperature up, there's a more significant problem at play with your heating. Sometimes furnace repair can resolve this issue. However, if a system is ill-equipped to heat your entire home or is continually turning itself off, your only fix may be to replace your furnace.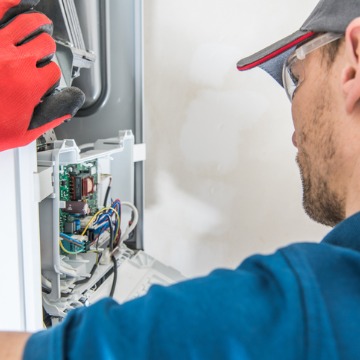 More to Offer
After your heating installation in Bloomington IL with Chambers Services, we can do so much more for your household. From fixing appliances to setting up your air conditioning, we have the experience and skill you need to keep your home running. For example, we offer:
Contact Us Today
Don't go without a functioning furnace for too long! Get reliable heating installation in Bloomington IL from the experts at Chambers Services. Call us today at 309-829-6750 to request a quote. Also, we are located at 1102 W Macarthur Ave, Bloomington, IL 61701.