Chambers is Your #1 Destination for Reliable Appliance Repair Urbana IL Loves
If you live or work in Urbana, you want to rely on safe, efficient and fast service when it comes to your appliance repair needs. That's why you should call Chambers Services whenever you face an appliance emergency or breakdown. Don't spend thousands on a new appliance. Save money and let Chambers Services do it for you. We are your #1 destination for reliable appliance repair Urbana IL loves and appreciates. We stand behind our work and it shows. In fact, we have factory authorization to do warranty repair on nearly 30 brands. Those brands range from Amana and Electrolux to Jenn-Air and Bosch. And with a one-year warranty on parts and a 90-day warranty on labor, you can trust the integrity of our services.
Choosing Chambers in Urbana
Because we buy our parts in bulk, we can pass those savings on to you, our valued customers. We carry most tools and equipment on our trucks so we can make common repairs quickly and efficiently without having to order anything. The next time you face a necessary appliance repair, call Chambers Services. We give you 24-hour priority service so we can get your appliance fixed quickly and get you on your way.
Why are so many of your neighbors relying on Chambers Services when their appliances break down? Here we outline a few: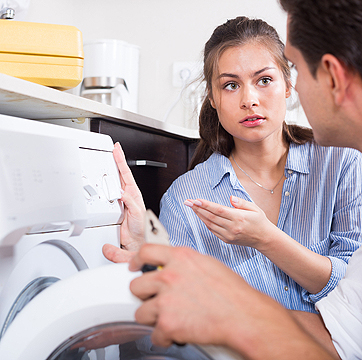 Quick service to get you back to normal.
Buy in bulk for the lowest price to you.
Service on nearly 30 brands.
Preferred factory trained and certified technicians by manufacturers.
Affordable, no-surprise pricing.
One-year limited warranty on all repairs.
Technicians carry parts and tools on trucks.
Timely, uniformed technicians.
Contact Chambers Services for Appliance Repair in Urbana IL
No more waiting, no more high-priced services you don't understand, and no more false promises. Call Chambers for up-front pricing and honest service in Urbana at 217-202-6523. Alternatively, you can complete our online form for more information. We are headquartered at 1102 W Mac Arthur Avenue in Bloomington, IL.