Top Contractors Near Me for AC Repair in Peoria County IL
Restore the comfort in your home quickly and affordably with Chambers Services AC repair in Peoria County IL. Since 1995, the main goal of our team of reliable contractors is to keep you comfortable during the triple-digit heat of summer. Besides, homes or businesses without air conditioning can become unsafe during especially hot days. The elderly, children, or people with respiratory or cardiac conditions can experience serious health emergencies due to prolonged heat exposure. So, let our experienced HVAC pros protect the comfort of you and your guests.
Whether you require maintenance or AC repair, we will be there to provide you with the ideal solution. Plus, you can rest assured that we will arrive promptly, provide honest pricing, and courteous service without leaving a mess. Email us a request for service or a free estimate now if you need AC repair, maintenance, or installation.
What to Expect with Chamber Services Contractors
There is a reason our contractors have served for nearly 40 years as the most trusted for AC repair. Not all HVAC companies provide the same level of expertise and workmanship. With our company, you will receive the following benefits:
Contractors who arrive on time for your service appointment.
Comprehensive repair services for all brands of cooling equipment.
A one-year warranty on parts used and a 90-day warranty on labor provided during repairs.
Service trucks are stocked with tools and replacement parts to make repairs as fast as possible.
Signs You Need AC Repair
Nothing is worse than feeling sweaty, overheated, and stressed out in your home or office. If you are experiencing these symptoms, you may need AC repair. Here are some of the most common signs that you need to schedule an AC inspection with Chambers Services: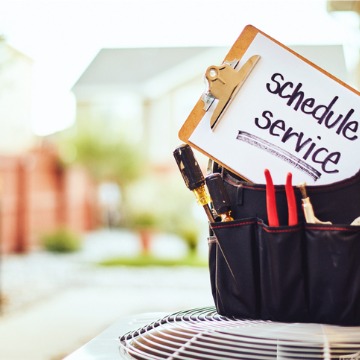 Your Thermostat Will Not Work – You may have a serious problem with your air conditioner if your thermostat is not working properly. After all, your thermostat tells your AC unit when to cool your home. If you are having problems with temperature moderation, a bad thermostat might be your culprit. Let us inspect your air conditioner pronto!
High Humidity Levels Inside – Your home should not have high levels of humidity if your AC unit has been running constantly. Whether you have an issue with airflow, system components, or frozen coils, your AC unit is not working efficiently if your property has high humidity.
Leaks – Your equipment likely has leaks if you notice water pooling around the base of your AC unit. If you do not have the unit inspected, this could lead to more serious problems like mold growth.
Loud Noises or Foul Smells – Your AC unit has serious problems if you notice unpleasant odors or persistent banging, squealing, knocking, or grinding noises. Loud noises mean interior components are undergoing a serious malfunction. Meanwhile, bad odors mean you might have mold.
Poor Airflow – Your air conditioner should not blow out hot air or little to no streams of cooled air. This sort of problem might mean your refrigerant is leaking or your compressor is broken.
Contact Us for AC Repair in Peoria County IL
Make sure you stay comfortable in your home or office this summer. Get in touch with Chambers Service at the first sign of any trouble with your AC unit. Email us online or call 309-691-1884 to request service or a free quote.