Your Go-To for Refrigerator Repair in Decatur IL
Every day, it's there, quietly doing its job so reliably, you forget how much you need it. Until it stops functioning. You know you need refrigerator repair in Decatur IL, but you don't know much more than that. That's why you should call the professionals at Chambers Services. We'll get your unit back and running in no time. Since 1995, Chambers Services has been satisfying customers in Decatur, and our namesake owner has been in the industry even longer than that.
Why Choose Chambers Services
Rob Chambers started in the industry with his father's heating and cooling repair service when he was still a kid. After years working and learning, Rob branched into appliance sales and repair when he went out on his own. Dedication to service has fueled the growth of Chambers Services. That commitment means we always have enough techs on staff to quickly respond to your needs. Our goal is to get your household back and running the way you need it to. Factory and manufacturer training allows us to arrive prepared with a plan and ready to resolve whatever issue you're having.
Years in the industry have shown the team at Chambers Services that you don't want any more surprises after the shock of an appliance failing to function. That's why we offer up front pricing. You'll always know just what it will take to get your fridge back up and running. We also value your time, so our repair team arrives with tools and most parts in the truck. That means you won't be losing any time and your great grocery store finds won't sour.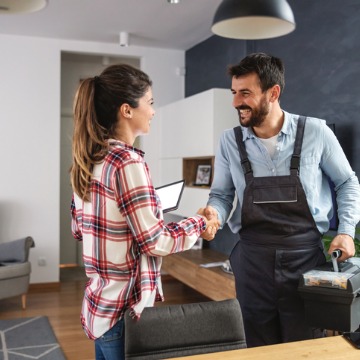 We Offer a Full Range of Services
Chambers Services provides a range of services in addition to refrigerator repair. Trust us for any appliance repair. We service major appliances, like ovens and stoves, washers and dryers, dishwashers, microwaves, freezers, and garbage disposals. We are also factory authorized to perform warranty repair on major brands, such as KitchenAid, Bosch, Whirlpool, Viking, Frigidaire, GE, and Amana. We also repair HVAC systems and are proud to sell and install Goodman furnaces and air conditioners. Call us to see if we can tackle your needs.
Get in Touch with Chambers Services
Don't waste time trying to find refrigerator repair in Decatur, IL. Contact Chambers Services first and you'll go from boiling over a breakdown to relaxing after a repair. You can learn more about our services, schedule a service, or request a quote by contacting us at 309-829-6750.