Quality Furnace Repair Near Me in Bloomington IL
When the fall morphs into winter, it's time to kick on your furnace. Although, if you haven't operated it since last year, there's a chance something could go wrong with it. Whether a belt snaps or a fan breaks, you need a specialist to inspect your system before the cold sets in. And when looking for "home furnace repair near me," Bloomington IL locals rely on Chambers Services.
When you hire Chambers Services, you receive the best heating repair service in the Central Illinois area. Since 1995, we've grown from a one-person operation to a large and well-known business. It's our pleasure to assist residents with furnace repair and installation, as we strive to be the go-to heating contractors around.
Why Hire Repair Specialists?
Aside from the ease and convenience of having a repairman fix your furnace, there are other added benefits to professional care. It's in your best interest to hire a heating specialist like Chambers Services.
Complete Service

There are many intricate parts to a furnace. If you don't possess training in heating repair, it's easy to miss an otherwise avoidable issue. Thankfully, a trained repairman can identify any problem and provide the appropriate solutions to fixing your furnace.

Knowledge of Systems

Just as we wouldn't expect a mathematician to perform an operation, we wouldn't expect you to know more than the basics about your heating system. It's why we learn the ins and outs of near every brand and model of furnace, so you don't have to.

Money Savings

You might not like having to pay to service your furnace, but the alternative could cost you much more. Some repairs are simple, but others can cost you thousands. Moreover, if the issue is bad enough, a new furnace might be the only option.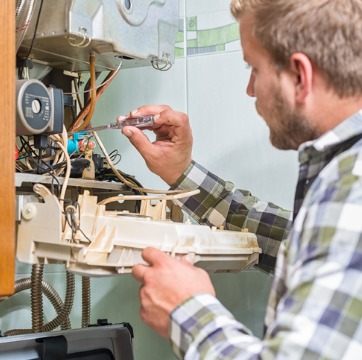 Have Chambers Do More
Once you've finished searching "home furnace repair near me" in Bloomington IL, let Chambers Services help you out with more. We offer 24-hour emergency service in cases of a complete shutdown of your heating in freezing conditions. Additionally, we offer repair work for a variety of other products and equipment, including:
Central Air Conditioners
Window Air Conditioners
Humidifiers
Dehumidifiers
Geothermal Systems
Air Cleaners
Various Appliances
Call Us Today
With fast and efficient "home furnace repair near me" in Bloomington IL, you've come to the right place. Chambers Services can provide you with everything you need, and more. Contact us at 815-324-8140. Also, we are located at 1102 W. Mac Arthur Ave., Bloomington, IL 61701.