Don't Take Chances on Your Heating and Cooling Company in Bloomington IL
Being able to keep your temperature regulated is a vital part of a home's ability to protect your family. That's why you can't afford to take chances with your HVAC system. Make sure you hire a quality, and highly qualified heating and cooling company in Bloomington IL. For nearly four decades, our team at Chambers Services has been serving Central Illinois. Led by owner Rob Chambers, we take great pride in bringing all our experience and skill on to every job site. We can't wait to take care of you and yours.
What to Expect from Chambers Services
It can be hard to trust someone especially when things are going wrong. That's why at Chambers Services, we try to be completely transparent when informing you about our services. We suggest you make sure to do your own research online. By searching review pages, you can see the outcomes customers have had. And when you visit our pages, you see we sit at over 4.6 stars on Google reviews. We are able to get such high marks because we always offer the best parts when repairing your system to ensure your HVAC lasts for years after our visit. Because we know you want as much certainty as possible, we will complete an inspection before quoting you a price. That way, we can better ensure that you know what will need to be done.
Our technicians are factory trained experts and experienced with all manufacturers. They even travel with parts in their trucks, which allows them to fix most issues on site in their first visit. Once they are finished, we offer a 2-year parts warranty and 1-year labor warranty. Our technicians also guarantee your satisfaction. We take great care to ensure your home is cared for within the time and budget constraints that will help you sleep easier at night.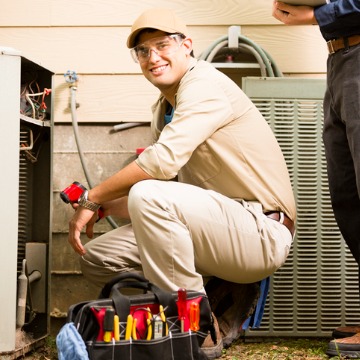 Chambers Services Repairs Numerous HVAC Appliances
Chambers Services can also tackle repairs of all kinds. In addition to heating and cooling repair and installation, we also service other major appliances. From ovens and stoves, washers and dryers, microwaves, freezers, and garbage disposals, we can repair your appliance. We are also factory authorized to perform warranty repair on major brands like KitchenAid, Bosch, Whirlpool, Viking, Frigidaire, GE, and Amana.
We're the Only Call You Need to Make
As a top heating and cooling company in Bloomington IL, Chambers Services offers 24-hour emergency car. Contact us today at 309-829-6750, or feel free to ask any questions on our 24-hour chat feature. We look forward to helping you.