Convenient Furnace Repair Service in Bloomington IL
When your furnace breaks, what can you do? Fortunately, there's good news. It's easy and convenient to request furnace repair service in Bloomington IL. By getting ahold of Chambers Services, you receive fast and efficient heating repair, so you don't get left out in the cold.
At Chambers Services, we've worked with the residents of Central Illinois since 1995. With our extensive experience in the heating and cooling industry and our repair experts, we've become the leading HVAC technicians in our area. When you hire Chambers Services, you're getting the highest quality work compared to other heating contractors.
Signs Your Furnace Needs Repair
It's important to keep an eye out for issues with your furnace before more significant problems start to occur. If you properly maintain your heating system, you can get the maximum lifespan out of it and save you more money in the long run.
Water Leaks – A clogged condensate line typically causes water pooling around or under your furnace.
Gas Leaks – By smelling gas around your household and your furnace, this is a signal of a serious issue. Shut off your gas line and call repairmen right away.
Weak or No Blowing – When there is little to no air coming from your ventilation, this signals problems with belts, fans or motors.
Loud Noises – If you hear any variety of loud noises coming from your furnace, it can indicate something wrong. Sounds like squealing, scraping and clunking can mean mechanical issues.
No Maintenance – Some problems aren't apparent on the surface. If you haven't had your furnace serviced in a while, it's a good idea to have a technician inspect it.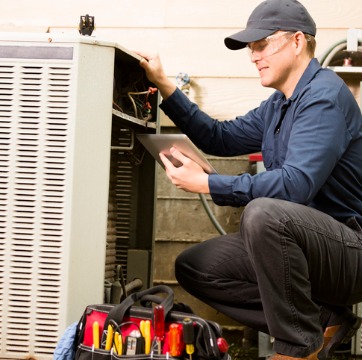 What You Get with Chambers
There's a good reason why Chambers Services is the furnace repair service Bloomington IL residents choose. Not only do we provide the best repair and installation for heating and cooling systems, but we offer 24-hour emergency care when you need it. Additionally, we service all brands of:
Central Air Conditioners
Window Air Conditioners
Humidifiers
Dehumidifiers
Geothermal Systems
Air Cleaners
Various Appliances
Give Us a Call
When you need furnace repair service in Bloomington IL you can count on, look no further than Chambers Services. You can contact us today at 815-324-8140. Also, we are located at 1102 W. Mac Arthur Ave., Bloomington, IL 61701.