Fast and Easy Furnace Maintenance in McLean County IL
Whether your home has loud noises, bad odors, or uneven heating, Chambers Services can fix it with furnace maintenance in McLean County IL. Call 309-829-6750 for affordable services from your trusted local heating and cooling company.
Do you find your surfaces collecting dust more frequently than in the past? Have you noticed the air inside your home smelling like dirt? If so, you may have clogged duct work. That may not seem important enough to get fixed right now. However, clogged ducts can lead to components in your furnace wearing out faster and breaking. Plus, it could lead to you or members of your household developing respiratory problems or other health issues. Don't let a small problem like clogged ducts snowball into expensive bills for furnace replacement or trips to the hospital. Chambers Services can provide humidifier, dehumidifier and air purifier service or other furnace maintenance in McLean County IL.
Our company has provided reasonably priced and reliable maintenance for appliances, air conditioners, and furnaces since 1995. Plus, each of our technicians undergo thorough background screening and training processes. Therefore, contact us for certified pros qualified to help you.
Fix Poor Heat Circulation
If some rooms in your home get too hot while others are freezing cold, you need furnace maintenance in McLean County IL. Poor heat distribution could mean any number of issues. Thus, you should rely on qualified professionals from Chambers Services to diagnose the problem. Our team can find out if you have broken components in your fan system or dirty ductwork. Then, they can resolve the issue quickly and get you back to feeling comfortable in your home. In fact, they carry many replacement components on their service trucks. So, they can provide quicker turnaround times on maintenance service than you might expect.
Save Money on Heating Bills
When you get preventative furnace maintenance, you ensure that your heating system runs more efficiently. As a result, your furnace will not need to work as hard to heat your home. Therefore, it will use less fuel to keep your household heated. Most importantly, you use less energy. So, you won't need to pay more than necessary to your utility provider. With the cost of power constantly on the rise, you can save big by using furnace maintenance to keep your system running at peak efficiency.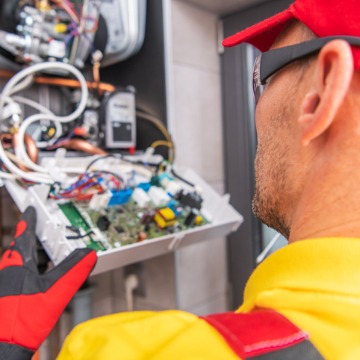 Get Full-Service Household Maintenance
Chambers Service technicians can resolve any issue with appliances or heating and cooling. So, rely on us whenever you need the following:
Schedule Your Furnace Maintenance in McLean County IL
Before you develop a major problem with your HVAC equipment, let Chambers Service perform furnace maintenance. We provide upfront pricing and policies to make sure you know exactly what to expect from us. Contact us if you want to schedule your service right now. If you prefer to speak with someone on the phone, give us a call at 309-829-6750.