Furnace Installation Bloomington IL Homeowners Count On
We install furnaces. It's what we do. And we've been doing it for about 40 years. Here at Chambers Services, we offer complete heating service performed by experienced professionals, backed by convenient appointment scheduling and 24-hour priority service. So, if your furnace system is giving you problems, call us immediately. You can't afford downtime in Bloomington, especially in winter. Without heat, you could be putting your family and your pipes at risk. Our technicians can install any brand of furnace you want. For furnace installation Bloomington IL homeowners count on, choose Chambers Services.
Brands and Types
We offer furnace inspections and air conditioning inspections, too, all the while valuing your time. This is why we make it a point to arrive at the appointed time for your service call, carrying most parts and tools on our trucks to perform a successful installation. Chambers Services has experience with all major brands, including KitchenAid, Bosch, Whirlpool, and more.
Chambers Services repairs all major brands of furnaces, as well as these heating and air appliances:
Air Cleaners
Gas and Electric
Window Air Conditioners
Humidifiers
Dehumidifiers
Geothermal
Central Air Conditioners
Warranties
You will be glad to know we also provide expert heating and air service with a two-year warranty on parts used, with one year on labor for all repairs. An estimate is all that stands in your way of partnering with Chambers. If you have a furnace or other heating appliance that's on the fritz, ask for an estimate from our family-owned company. Established in 1995, we may look like a small operation, but we provide the expert services of a large company.
Why Give Us a Call?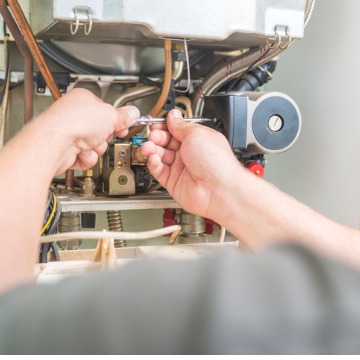 First off, we're highly skilled in furnace installation, bringing a long history of providing excellent heating service for nearly four decades. Our certified technicians are available to install any brand of furnace whenever you need it. Plus, we will call when we are on the way to perform your repair. We are friendly and considerate, cleaning up thoroughly, so there's no hassle with a mess.
Additionally, Chambers Services brings you:
Timely services
Up-front pricing
Bulk parts buying for the lowest price
Factory-trained experts
Excellence working with most manufacturers
Statewide repair
Parts and tools on trucks
Contact Chambers Services in Bloomington IL
Our quality, on-time service by experts at affordable prices is unbeatable. Whether you need an installation of a furnace or heater, we are the ones to do it quickly. This speedy service gives you peace of mind no matter what the season is. Need a company you can trust when it comes to furnace installation in Bloomington IL? Chambers Services is the clear choice. Don't hesitate to contact us today at 309-829-6750 right here in Bloomington.