For AC Repair Near You, Chambers Services is the Call to Make in Bloomington IL
There's nothing worse than getting stuck with an AC unit that isn't working when the weather is getting warm. Fortunately for the people of Bloomington IL, Chamber Services has been providing AC repair near you for nearly four decades. Our professional skilled technicians arrive promptly and prepared so you can relax and enjoy being hands-off with the service. Plus, with our upfront pricing you'll never have to worry about any surprises.
Since Childhood
Chamber Services really began during the childhood of our owner, Rob Chambers. Starting at 12 carrying his father's tool bags, Rob branched into appliance sales and repairs in his early 20s. The current business is one he's grown from a single person shop into a full-service business. Today, we're capable of repair on major appliances as well as HVAC installation and repair. Though the company has grown, we haven't forgotten those lessons Rob learned in his early days. That's why we always make sure to center all our best practices for our customers.
Our team also makes sure we can do more than HVAC and AC repair alone. We also repair numerous types of appliances for your home. From ovens and stoves, washers and dryers, dishwashers, microwaves, freezers, and garbage disposals, if it's not working, we'll either fix it or advise you on what to do next. We can also perform warranty on major brands like KitchenAid, Bosch, Whirlpool, Viking, Frigidaire, GE, and Amana.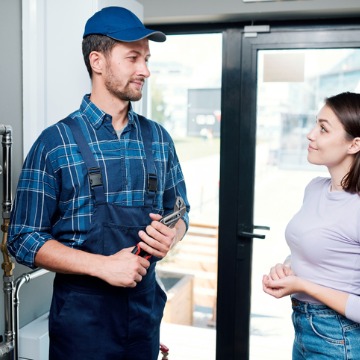 Quality You Can Trust
Being able to trust your appliances is one of their most important features. At Chambers Services, we want you to know that after we've provided AC repair near you, you'll have warranties on parts and labor. Our factory trained technicians are up to date with all makes and models. And you'll know when we arrive, somebody's here that can handle it.
Contact Us Today
Don't wait until it's too late to get AC repair near you, Bloomington IL. Our team is standing by in our Bloomington office. Give us a call at 309-829-6750. And if you have any questions when the office isn't open, we'll always have a 24-hour chat feature on our website where you can also request a quote or schedule service with just a click. We look forward to working with you!