When to Choose Washer Repair in Bloomington IL
Everyone has thought through an at-home nightmare scenario like this one. It's laundry day. You walk into your laundry room to put clothes in the dryer and there is water everywhere. Or maybe you've just settled in to watch your favorite show while you wait for laundry to finish up. But instead of being transported to a fantasy world, you can't escape the loud banging coming from your washing machine. You may be asking yourself, "Does that banging mean I have to shell out hundreds of dollars on a new unit?" In either of these cases, it's good to pause before spending money on a new unit. It's very likely you simply need washer repair in Bloomington IL.
Diagnosing the Problem
Washing machines have one job. However, they use many mechanisms to make that job seem simple. Therefore, you'll want a skilled technician to tackle your problem. That loud banging could just be an unbalanced load. But it could also be a faulty washing machine drum. A machine full of water at the end of its cycle seems like a calamity. But it could just be a clog that a well-equipped professional can quickly fix in a jiffy. If your spin cycle doesn't spin, you might just need a new belt or door sensor. Fancy front loading units are amazing until a door won't open, which could be a draining issue. Or, if you can't run a load without tripping a breaker, you need to call for a professional to correct the problem. Start with Chambers Services.
Chambers Services is a family-owned company that prides itself on treating customers like they're family. Our technicians are trained and certified to service a wide variety of washing machine brands. Our team goes through regular in-house and manufacturer's training to ensure they can service your appliances properly. Because we know people in a situation like yours don't love surprises, our staff will explain our pricing and repair policies when you schedule your call. We'll also file warranty claims on your behalf. Our goal is to provide the best washer repair in Bloomington IL quickly, with minimal stress, and with your complete satisfaction in mind.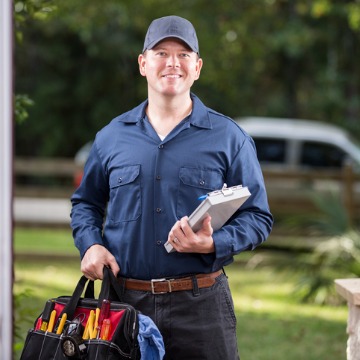 Why Choose Chambers Services
Call Chambers Services to resolve any of your washing machine issues. With decades in the industry, we can diagnose and repair your unit's issue with confidence. We only hire certified technicians so you can always feel secure you are getting a skilled professional showing up to resolve your problems. And we know how valuable your time is, so our techs travel with tools and parts prepared for most problems.
Contact Us for Washer Repair Today
If you are experiencing issues and think you might need washer repair in Bloomington IL, give us a call today. To request a quote or to schedule a service, contact us directly at 309-829-6750.