When to Consider Refrigerator Repair in Bloomington, IL
Aging refrigerators experience common problems. They might run nonstop. They could leak. Sometimes they may have lost the ability to cool properly. Often, water dispensers quit working, which is an inconvenience. A reliable refrigerator is important for keeping your food safe and fresh. It will also keep your utility bill lower. However, many of these issues are so ill-timed, people consider replacing an appliance before they think about fixing it. Fortunately, many of these issues can easily be repaired and made efficient once again. For refrigerator repair in Bloomington, IL, contact Chambers Services first.
Why Choose Repair from Chambers Services
When should you consider a refrigerator repair instead of replacement? At Chambers Services, we always recommend you weigh the pros and cons before you decide what's right for you. We follow a simple rule of thumb: never pay more than half of what a replacement would cost to repair. Think about it this way: a 10-year-old refrigerator may still have a long life ahead of it. Meanwhile, a modern fridge comes with new features and technologies may be beneficial. It may also cost significantly more than your current appliance. If you are concerned about the budget of a new appliance, consider refrigerator repair in Bloomington, IL.
Chambers Services is a family-owned company that was established in 1995. All of our technicians are trained and certified to service a wide variety of brands. We also provide ongoing in-house and manufacturer's training to ensure we have the latest information about their products. Our team will also explain our pricing and repair policies when you schedule your call so there are no surprises. We'll also file warranty claims on your behalf. Our goal is to repair your appliance as quickly as possible and to leave you completely satisfied.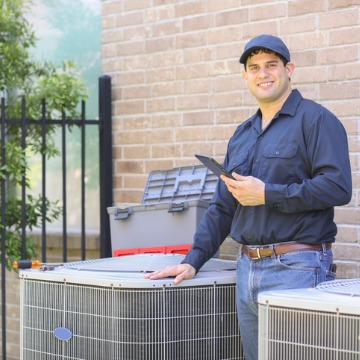 What Chambers Services Offers
Chambers Services offers more than refrigerator repair. We're also your resource for all appliances and HVAC systems. We both install and repair HVAC systems. We are proud to sell Goodman furnaces and air conditioners. Our team also services major appliances including ovens and stoves, washers and dryers, dishwashers, dishwashers, microwaves, freezers, and garbage disposals. We are factory authorized to perform warranty repair on brands like KitchenAid, Bosch, Whirlpool, Viking, Frigidaire, GE, Amana, and more. Call us before you choose to replace an appliance to see if we can tackle the repair.
Contact Us for Refrigerator Repair in Bloomington, IL
If you're looking for refrigerator repair in Bloomington, IL, start with Chambers Services. You can request a quote on our website. Or, feel free to contact us at 309-829-6750 to schedule a service today.