Struggling with Your Furnace? Find Expert Heating Repair in Champaign IL
Is every winter season with your furnace a battle? Are you constantly fighting to keep temperatures in your household consistent while your heating struggles to keep up? You shouldn't put up with such issues any longer! When your furnace breaks down or malfunctions, you require urgent heating repair in Champaign IL. And if searching for expert, local and affordable heating contractors to service your system, residents count on Chambers Services Inc.!
What Can Be Resolved with Heating Repair?
While some repairs are urgent and obvious, other issues with your furnace might be more subtle. However, every malfunction with your heating, no matter how minor, can significantly impact your household's health, comfort and safety. Thanks to the work of a skilled repair technician, furnace repair can resolve:
Extremely High Energy Bills

Do you brace yourself every winter for the inevitable impact turning your heating on will have on your energy bill? You're not alone! However, while it's normal for gas and electric costs to rise during this time, if they far exceed what you've come to expect, there's an issue with your system. Thankfully, with repair work from Chambers, we can get your furnace back to running at peak efficiency.

Spotty Heating

If your household isn't staying warm after running your furnace, broken or malfunctioning components are the likely cause. Whether due to dirty air filters, clogged vents, faulty igniters, cracked heat exchangers, or any number of issues, your furnace might cease to operate. Thankfully, Chambers Services understands how to pinpoint such issues quickly, restoring your heating to normal function.

Health & Safety Concerns

As your furnace is directly connected to your home's airflow, you want to make sure every part of your system is clean and well-maintained. Otherwise, allergens, dust, germs and other contaminants can get pushed through your air, causing various health issues within your house. More urgently, if gas connections for your furnace break or come loose, you place your home at risk of carbon monoxide poisoning. As such, repairing your furnace helps maintain the health and safety of your household.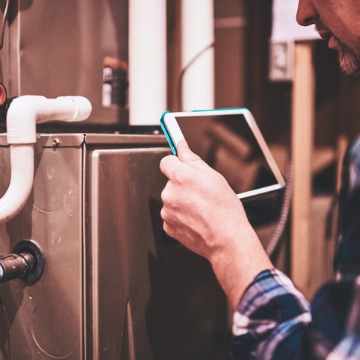 Essential Heating Services (And More)
There's no doubting how essential heating repair in Champaign IL is to the warmth of your home. However, furnace repairs aren't the only heating service Chambers Services can offer. We assist residents in maintaining the systems most crucial to the function of their homes. In addition to furnace repair, we also offer:
Contact Our Office
Don't get left out in the cold this winter. Instead, ensure your furnace is in working condition with heating repair in Champaign IL from Chambers Services Inc. To learn more about our services or request a quote, call 309-829-6750. We are located at 1102 W Macarthur Ave, Bloomington, IL 61701.