Chambers Services Offers Appliance Repair Champaign IL Can Count On
It can be stressful looking for the right person to service your appliances. Repair is certainly cheaper than replacing the whole unit, but how can you be certain it will last? You may even fear turning your appliances into a money pit. Fortunately, for those needing appliance repair in Champaign IL, Chambers Services is the company to trust. We offer reliable, up-front service and pricing that can help you feel certain you are making the right choice.
A Customer-Centered Approach is in our DNA
Since before he established Chambers Services in 1995, our owner, Rob Chambers, learned the value of dependable appliances and dependable service. He did so as a pre-teen while assisting his father in his HVAC company. Entering homes with people in distress over malfunctioning appliances taught Rob to understand how stressful that experience can be. It's why he set his own business practices with transparency in mind. And it's why, today, we are committed to alleviating your stress. Chambers Services offers up-front pricing for all our service calls, so you know exactly what you are getting into when you give us a call.
We Are Prepared When We Arrive Because We Value Your Time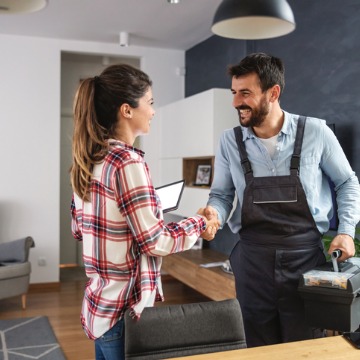 Aside from getting your appliance functioning again, our decades of experience have shown the timeliness of that repair is your next greatest concern. We make sure our technicians arrive at every job with the tools and parts required to make most repairs. If you have a unique issue that requires a specially ordered part, we can make that process as quick as possible because we already have a working relationship with all appliance manufacturers.
In addition, we guarantee your satisfaction. Our technicians take great pride in protecting your home and do the following while handling an appliance repair in Champaign IL:
Call ahead when on their way to your repair.
Wear shoe covers and floor coverings to protect your floors.
Lay down tool mats for their tools.
Thoroughly explain their diagnosis, repair procedure, timing, and costs.
Clean up any messes they make.
What Chambers Services Offers
Chambers Services is also equipped to tackle many types of repairs. We provide HVAC repair, sales, and installation. We also service major appliances, including washers and dryers, ovens and stoves, microwaves, freezers, and more. And we are factory authorized to perform warranty repair on major brands like KitchenAid, Bosch, Whirlpool, Viking, Frigidaire, GE, and Amana.
Get a Quote
If you're ready to talk your need for appliance repair in Champaign IL, get in touch. We'll answer any questions or schedule a service over the phone. We can even provide you with a quote if you give us a call at 309-829-6750. We look forward to helping you.