Call Chambers Services for AC Service Near You, Bloomington IL
The weather is warming up. At the start of spring, it's often hard to catch consistent stretches of warmth. Yet that sun is starting to bake the inside of your house anyway. Like a good homeowner, you're already thinking ahead. You want to know where you can get AC service near you, so you don't ever have to worry about being left to fry. Fortunately for homeowners across Bloomington IL, Chamber Services has been keeping temperatures just right for our community for nearly four decades.
Signs of a Struggling System
Maybe you're just looking for somebody to do some preventative care before the seasons change. Or maybe you're noticing some malfunction in your system. Noises, odors, inconsistent temperature control, and increasing energy bills can be signs it's time to get your AC serviced. In addition, air blowing without having been cooled and intermittent shutdowns are among the kinds of issues they might have brought you searching for AC service. Whichever it is, the team at Chamber Services is ready to help you resolve the problem.
At Chamber Services, we know the unexpected is usually what has you calling us. That's why we try to make sure that you never get surprised after you have. We offer upfront pricing for all our services. And you will always know what that charge is before beginning repairs. Our technicians stay trained in all manufacturers and will arrive in a timely manner prepared to take care of you.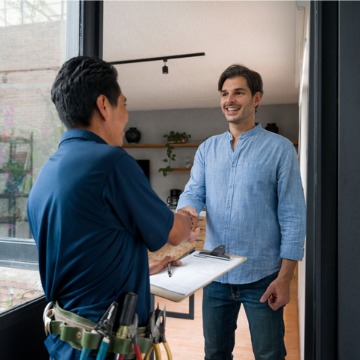 What Else Can Chambers Services Do?
Chambers Services does more than AC inspections near you. We can also service major appliances, including washers and dryers, ovens and stoves, microwaves, dishwashers, freezers, and garbage disposals. We are also factory authorized to perform warranty repair on major brands, like KitchenAid, Bosch, Whirlpool, Viking, Frigidaire, GE, and Amana. Call us to today so we can help you.
Contact Us Today
Don't take any chances, Bloomington IL. Give Chambers Services a call for the AC service near you that you can trust. You can contact us at 309-829-6750, where we can schedule a service or work up a quote for you. And if you ever have any questions when our office is closed, our website provides a 24-hour chat feature to ask any questions. We also offer 24-hour priority service calls in emergencies. Get in touch so we can take care of your needs.