Your Trusted Heating and Cooling Company in Bloomington IL
If you are on the lookout for a company you can trust when it comes to heating and cooling installation and sales, look no further than Chambers Services. We proudly sell Goodman furnaces and air conditioners, licensed for both HVAC and geothermal. We also install air cleaners, humidifiers, dehumidifiers and heat pumps for your convenience. Our team would be happy to provide an estimate to replace furnaces and air conditioning units free of charge. Choose our trusted heating and cooling company in Bloomington IL today.
We are a family-owned business, established in 1995. While Chambers Services provides the services of a large company, we also go to great lengths to maintain a small family atmosphere. There are many reasons why we are the Midwest's top choice for heating, cooling and appliance repair:
Sales, Service, Installation
Fast 24-Hour Emergency Service
All Services Available with Warranty
Factory Authorized by Most National Brands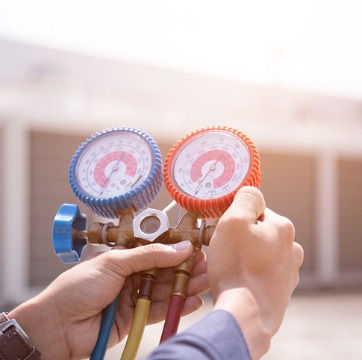 What We Do: Heating and Air Repair
We know heating and air repair inside and out, with a rich history of providing top quality heating and air repair service for nearly 40 years. Find out why so many people trust our certified technicians with their heating and cooling systems in Bloomington and beyond. We:
Can repair all brands of heating and cooling units.
Offer a one-year warranty on parts used and 90 days on labor for all repairs.
Strive to always be on time for your service call.
Carry most parts and tools on our trucks, saving you time and productivity.
As such, you can rely on us to repair and install:
Furnaces (gas and electric)
Central air conditioners
Window air conditioners
Humidifiers
Dehumidifiers
Geothermal
Air cleaners
Furnace inspections
Finally, air conditioner inspections
Contact Chambers Services in Bloomington IL
In conclusion, to schedule service or installation of heating and cooling appliances, contact us in Bloomington IL at 309-829-6750.