The Best Dryer Repair in Bloomington IL
A broken or poorly working dryer is a frustrating situation for anyone. Your clothes may still be damp after a 60-minute cycle. Maybe the dryer is squealing when it runs. You likely don't want to spend the money to buy a new one. You also may be wondering if a dryer is too complex an appliance to tinker with yourself. Don't stress! When you need dryer repair in Bloomington, IL, Chambers Services is here for you. Our skilled professionals can diagnose and resolve your issues, so you don't have to shell out thousands of dollars on a replacement appliance.
Why Call Chambers Services
A machine that won't dry may feel like a completely broken unit. Fortunately, its not. Our skilled professionals are able to identify the root cause of many problems. We can address those problems, so you don't have to buy a new machine. No matter the make and model, we know how to get your dryer up and running. From a drum that won't turn to weak heat, we have the experience and knowledge it takes to repair or replace the parts causing the issue. Our years of experience have taught us what to expect. You may be surprised how quickly we can turn your broken dryer from the world's most expensive noise machine into a functioning part of your home once again.
Even though they only have one job, dryers use many moving parts to accomplish the end goal of drying your clothes. Our pros are versed in all the mechanisms of your dryer and can quickly find what needs to be repaired. Once identified, they are prepared to repair your unit as quickly as possible. We arrive at your home prepared for the job. Our technicians travel with most parts necessary to fix your dryer so they can get you back to your normal routine in no time. We strive for complete satisfaction every time. We want you to make Chambers Services your go-to source for dryer repair in Bloomington IL.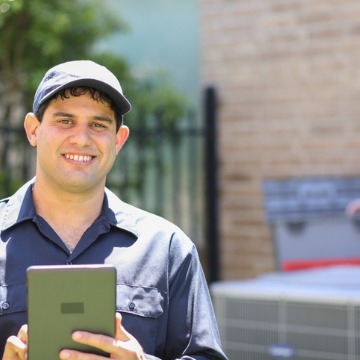 Chambers Services Expertise
In addition to dryer repair, Chambers Services works on all major appliances, including ovens and stoves, washing machines, dishwashers, microwaves, freezers, and garbage disposals. We are factory authorized to perform warranty repair on brands like KitchenAid, Bosch, Whirlpool, Viking, Frigidaire, GE, Amana, and more. We also provide heating and air repair and installation services for HVAC units. Call us first to see if we can fix any repairs you need tackled.
Request a Quote
If you're in need of dryer repair in Bloomington, IL, we hope you'll call us first. Our staff is happy to answer questions and provide you with insights into our processes. We can also schedule a service over the phone. Give us a call at 309-829-6750 to request a quote.