Where to go for Air Conditioning Repair in East Peoria IL
When summer hits, you need your home to stay cool after a long day of lawn work or coaching the kids. What do you do when home stops being so cool? You make one simple call. Chambers Services is your source for air conditioning repair in East Peoria IL. The Chambers family has kept customers cool for two generations. We will always be prepared to tackle whatever issues your unit is encountering.
Why Choose Chambers Services
At Chambers Services, our technicians are skilled and trained to combat any problem you may have. They are highly experienced, which allows them to arrive prepared to remedy most issues you could be experiencing. They are manufacturer and factory trained. And they travel with the skills, tools, and most of the parts necessary to resolve whatever has your unit on the fritz. If you need another unit, Chambers Services is proud to sell and install Goodman furnaces and air conditioners. You will be able to find the perfect unit to suit your needs.
Chambers Services' owner Rob Chambers began his career in AC repair when he was only 12, working with his father. He not only learned how important air conditioning systems are to how a home functions. He also learned the ins and outs of the business. He spent so much time with customers that he realized the value of their time. That's why all his technicians do everything they can to ensure your experience is as pleasant as possible while they prioritize getting you back to fully functioning fast.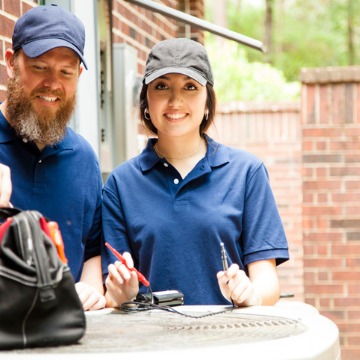 You'll Appreciate Our Up-Front Costs
At Chambers Services, we offer flat rates for repairs, which allows us to quote your cost in advance. We also have a set fee for service visits, so you won't feel squeezed when you are in a pinch. We are proud to offer up front pricing. It allows you to understand the process from start to finish, so you'll always know what to expect. When you need air conditioning repair in East Peoria IL, contact us first.
Get in Touch for Air Conditioning Repair
We invite you to explore our website. You'll see what the services we have to offer. And when you find yourself in need of air conditioning repair in East Peoria IL, give Chambers Services a call at 309-829-6750. We look forward to working with you.