Do Some Spring Cleaning with Duct Cleaning for Peoria IL
As we finally begin to emerge from our homes after the long winter break, there's one thing on most people's minds: cleaning time! Once spring cleaning finally rolls around, it's time to get your house in order. And nothing is more important to a pristine home than annual duct cleaning for Peoria IL. Thus, you need the heating and cooling specialists from Chambers Services to lend a hand.
Benefits of Efficient Duct Cleaning
Why should you need to clean your ducts? The simple answer is because they're a part of your home that gets dirty over time. However, there are more specific benefits to having a professional clean out your ventilation.
Improve Air Quality

If allergies are an especially significant problem for you in the lead-up to summer, you might be able to resolve some of your issues with duct cleaning. Over time, dust and allergens get caught in your vents. So, when you turn your HVAC system on, all it does is blow allergens around your home. Thus, cleaning your ducts helps improve your house's air quality.

Maximize Efficiency

When dust cakes onto fans and vents, it makes it harder for your HVAC system to operate. Not only must your system cool or warm your air, but it now must push through layers of debris cycle air throughout your home. And the harder your HVAC has to work, the more likely a breakdown of your system becomes.

Save Energy

Alongside maximizing the efficiency of your HVAC, duct cleaning for Peoria IL helps reduce the price of your energy bills. The more dust buildup in your ventilation system, the more difficult it becomes for your AC or heating to affect your home's temperature. And if your system must continuously run to change the temperature, you're going to end up paying more for electricity or gas.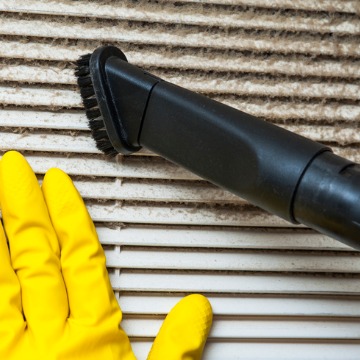 What Chambers Services is All About
Chambers Services is a family-owned business, having worked in the heating, cooling and appliance industry since 1995. Rob Chambers, owner of Chambers Services, has been in the industry even longer and has a wealth of knowledge when repairing or installing your heating and cooling systems. More than providing duct cleaning for Peoria IL, our services extend to HVAC, AC and furnace repair, installation, and appliance repair.
Give Us a Call
When the time is right, begin cleaning your home with professional duct cleaning for Peoria IL from the Chambers Services team. Call us today at 309-829-6750 to or . Also, we are located at 1102 W Macarthur Ave, Bloomington, IL 61701.