Don't Wait on Air Conditioning Repair in Decatur IL
On hot days, a cool home is a godsend. Still, no matter how much you may wish it consistently cooled, sometimes your air conditioning fails to do its job. When that happens in the summer heat, you need a quick solution that lasts. It's best to find a company that has been serving your community for years, that has a long list of satisfied customers. You'll want a company who arrives prepared for the job, so you don't have to spend your time waiting.  And you'll need a company that provides replacement equipment if your unit is beyond repair. That's why Chambers Services is the perfect fit. When you need air conditioning repair in Decatur IL, put us at the top of your call list.
Why Choose Chambers Services
We promise fast, friendly service. Next, we are transparent with how we work and what we offer. In addition, we are a fully licensed HVAC and geothermal company that sells and installs top quality Goodman air conditioners and furnaces. Chambers Services always posts our rates on our website, so you are never caught unaware of a charge or service fee. And we're a company that takes our installations all the way through to filing your unit's warranty for you. In fact, we even offer a 2-year warranty on parts used and a 1-year warranty on labor for all services provided.
This commitment to customer service was born out of the work ethic of our owner, Rob Chambers. Rob spent his youth assisting his father. From age 12, he has been working on appliances for clients and has seen the value in prompt service and clear expectations. Now, the Chambers Services team has a full-service business for all your appliance needs. We proudly offer prompt service that helps you get your household back and functioning the way you want it to. Talk to us first when you need air conditioning repair in Decatur IL.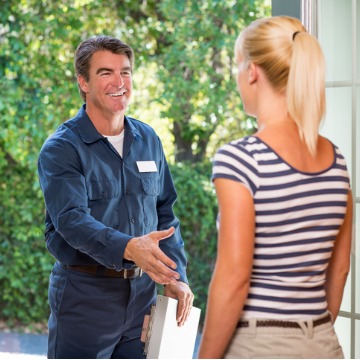 Services We Offer
Once you've repaired your air conditioning, remember that Chambers Services can repair a full range home appliances. We service ovens and stoves, washers and dryers, dishwashers, microwaves, freezers, and garbage disposals, too. Next, we are factory authorized to perform warranty repair on brands like KitchenAid, Bosch, Whirlpool, Viking, Frigidaire, GE, and Amana. Call us for any your appliance repair needs.
Contact Chambers Services
The Chambers Services team is commitment to our customers' full satisfaction. When you need air conditioning repair in Decatur IL, get in touch to schedule a service call. You can learn more about us or request a quote or service by calling us at 309-829-6750.